Long time no blog post.
My time away was blessed and
I missed y'all and
I'll talk more about that time later in the week
because I have more important news to share today.
Tell me....could you resist this face?

Yeh, we couldn't either.
God gave us this crazy-wonderful gift yesterday and we're all aflutter around here.
You know.....that feeling of bringing a newborn baby home and wanting to just sit and stare and ooh and aah over her all day long? That's us.


You might remember that we
recently said goodbye
to our longtime companion, our big 'ol yellow lab, Gatsby. We knew we'd
eventually
get another dog because that's who we are, dog lovers, but didn't expect it would happen this soon or that the dog would be this amazing!
She's a 6-month old Goldendoodle whose previous owner did a loving thing for her and decided she should go to a home where she could be given the attention that she deserved. And, turns out, that home was ours!
Yesterday morning we couldn't have imagined that we'd have the pitter-patter of paw pads in the house again. A blonde furball who would be so sweet and gentle and smart curled up at our feet again. A curly-girl who, although never been leashed before, would walk like a little lady through the pet store as we excitedly picked out new toys and accessories and food. A playful pup who would be bounding through the snow after the kids.


She's truly more than we could hoped for but isn't that the way God works?!
His loving-kindness goes above and beyond what we can imagine.
And, so, in thanks, I scratch down yet another one on the never-ending list of the gifts from God of all grace.
#1,238
an unexpected second chance to give and receive the unconditional love of a dog,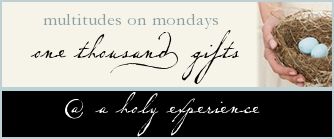 2 things....sorry for the grainy-ick pictures and is the font size here ok?