This girl is tired. It was a glasses kind of day. I think I heard my eyeballs scream when I had to put my contacts in so I could run to the store for maple syrup. (It was also a french-toast-for-dinner kind of day). But, the nanosecond I got home, the contacts came out and the glasses went back on. So....tired, yes. But the best possible kind of tired. The I'm-so-glad-I-did-that kind of tired.
What's my problem, you say? I was up until the wee hours every night this weekend working on a remodeling project. I'm talking 3:00am, people. You see, my husband and boys were away on their annual fly fishing trip and every time they go, they come home to some sort of surprise....a room painted or completely rearranged, etc. So, not wanting to disappoint, I took on my dark kitchen....Phase 1, I called it. At the risk of whining or sounding discontented or unappreciative, I have to be honest here and share that since the day we moved in, I've wanted to paint the cupboards white but my husband, for some strange reason, thought that painting 5-year-old cupboards was craziness. I can thoroughly appreciate the beauty of wood in other people's homes but I thrive in light and bright surroundings. I'm sorry to admit but sometimes the atmosphere affects my mood. There are times when I walk into my kitchen and inwardly groan, "It's just sooo dark in here."
Oh man, this post really wasn't meant to be about my project....that will be for another time. But I wanted to explain why this post is short on words and why the photos are from
LAST weekend.
historic village
, though. (Ohhh, how I love me a historic village.)
"
I will meditate on your wonderful works.
They tell of the power of your awesome works—
and I will proclaim your great deeds.
They celebrate your abundant goodness and
joyfully sing of your righteousness
."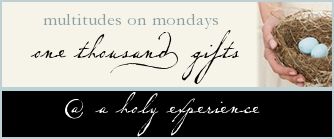 And...one more thing....
her post today
? About what matters....about grace? You'll not want to miss it.