Let's set aside our pencils and paper and go fishing.
Maybe we'll spot some goslings on the way.
How about we attack those weeds in the garden today
and call it gym?
Can you believe it's going to be 80 degrees tomorrow?
Let's go to the beach after Bible study!
Sure, you can bring a friend.
I'll get everybody burgers at

Whippi-Dip

on the way.
The joys of homeschooling always seem magnified to me as nice weather rolls into town. I find myself relaxing and embracing a holistic way of learning. Sighing relief that we're not confined to a classroom with artificial lighting seven hours a day. Laughing inside that two certain boys fly through their 3R's to get to "dessert" which is going outside. Or scrapping pencils altogether to attend the class of hard-sweaty-work-in-the-garden.
God is so good to us and I continue to count the ways.
#978 - 1,002
Wow, over one thousand listed in this space yet countless over a lifetime.
YOU are amazing, God

!
the freedom to educate these children in ways You've placed on my heart
Thursday beach COMPLETELY to ourselves
still, silent air
waves that barely lap the shore
kids with full bellies
no concern over where that pack of exploring boys wandered off to
freedom for them, freedom for me
sand in the pages of a good book
fresh taco dip and tortilla chips
camera to capture a few moments, even if the battery died too soon
every meal outside again
tempting treats

on the counter
best friend and husband laying their eyes and arms on their daughter for the first time
You, in Your perfect timing, Lord, have carried them so far
You know the plans You have for us
hubbie in golf clothes and curls
family UNO games
estate sales in original owner homes
well-loved granny linens
35 and still making new friends
worship songs stuck in my head
newborn foal at the compost place and the wonder of it being inside that good mama just hours before
laundry done and tucked away
watering ferns in the morning quiet
just me and You, God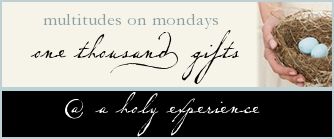 Oh, and I didn't forget...a little bit later today, I'll post the winner of

the giveaway

, OK?
Journeying with you,
Megan