that He gave His one and only Son, that whoever believes in Him shall not perish but have eternal life.
He's ALIVE and with us! Rejoicing with you today in Christ's rescue and redemption. Woo-hoo!
Lord, I'm so thankful...
#948. You're my Saviour
949. You're the final sacrificial Lamb
950. that You're wholly there and wholly here....HOLY
951. all is Holy ground
952. for 9-year-old's questions about You
953. for O's hands clapping a joyful noise unto You
954. for her tiny, still baby-plump hands lifted in praise to You
955. for their Daddy who reads 'til his voice is hoarse, a

story
that draws them to You
956. for grace for this Mama
957. for the Holy Spirit given and comfort, hope, exhortation, encouragement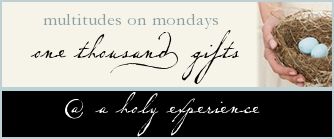 Continuing to join with

Ann and a community of thanks-listers

because, truly, viewing this life through the lens of gratitude clears my vision to see the reality of my living, personal Saviour's always-at-work, faithful presence and grace in my life.
May you see Him in all this week,
Megan