"Look who wants to come inside, Mom," he laughs while squeezing Alice the hen, who is looking markedly nervous in his grip.
"Mom, you won't believe how big this egg is! Look!"
as I'm handed Betty's unusually jumbo-sized beauty.
"Mommy, I'm going to paint a pic-cha for your bedroom, OK?"
"Whoa, Mom! Look how cool this ice is! The patterns!"
"We finally caught a snake, Mom.
You know, if you want to tame them,
you just have to pet them like this for a while
and then they won't bite you."
"You mean I get to wear my new mud boots?
Wait, where's Oliver going? Oliver, I get to sit behind Mommy!!"
"Can I have the one with the stars on top, please?
"And when Esau lifted up his eyes and saw the women and children, he said,
"Who are these with you?" Jacob said,
"The children whom God has graciously given your servant."
The words of these gracious gifts are also gift.
His seven-year-old thoughts on the behavior of snakes.
Her sparkling stories that make no sense but make me laugh anyways.
His book narration that spells out every.single.detail.
Their imagination in words.
I find myself storing them up,
etching them into the chambers of my heart,
seeing that they're treasure.
I'll only get to hear their hearts through a phone call
"So teach us to number our days
that we may get a heart of wisdom."
"

Give me open eyes, O God,
eyes quick to discover Thine indwelling in the world which Thou hast made.
Let all lovely things fill me with gladness and
let them uplift my mind to Thine everlasting loveliness.
Forgive all my past blindness to the grandeur and glory of nature,
to the charm of little children,
to the sublimities of human story,
and to all the intimations of Thy presence
which these things contain.

"
Giving glory through continuing everyday thanks...
blindingly bright sunshine and cloudless skies
him, sharp knife in hand, separating orange juice carton from ice block
her skipping down the street with GLEE to a friend's
school at home and reading aloud
shredded pork and pineapple tacos with sour cream...mmm
him stepping out in faith
drawing closer to God's heart
the Holy Spirit using

wise words

to prick my heart, teach me
him joining choir out-of-the-blue and adding his voice yesterday
warm cinnamon rolls and coffee at church before the service
muscles sore and growing back stronger
the quiet of morning with the flicker of candle
her first-thing-in-the-morning always smiling face
a Daddy who invests time in his sons
who teaches them about fishing and life
a library bag too heavy to carry
stacks of colorful fabric...waiting
sunny warmth, blankets, pillows, cozyness
people wiser than myself and never an end to learning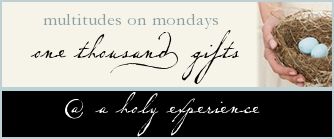 May the words in your ears be honey to your souls today,
Megan