Driving back home this morning, muscles still quivering from the beating they took, I had a whispered conversation with God thanking Him for the surprise of the sun breaking through the clouds so early, that He was bringing Spring already. I was also praying for a few friends, not sure what their exact needs were for this day but feeling a heart pressing for them.
And then I found these words of

Elisabeth Elliot
tucked into my mailbox this very morning,
"Power to Meet and to Give Thanks


Often I pray for someone whose circumstances or needs are unknown to me. There are many prayers in Paul's letters which may be used for almost anyone. One of my favorites is in Colossians 1:9-12. A part of this prayer asks "May He strengthen you, in His glorious might, with ample power to meet whatever comes with fortitude, patience and joy, and to give thanks to the Father" (NEB).




That seems to cover every possibility. It does not ask for instant solutions or reversals. It does not call on God for miraculous deliverance out of any trouble that might come. It asks for a truly Christian response, by the sufficient power of God: to meet whatever comes as a true Christian should meet it, with the Holy Spirit's gifts of fortitude, patience, and joy. It asks for the power to give thanks. It takes power, doesn't it, to thank the Father when everything in us protests? But we find in Him (not always in what happens to us) plenty of reason to thank Him and plenty of power."

Author: Elisabeth Elliot -Source: A Lamp For My Feet-Scripture Reference: Colossians 1:9-12
The entire passage of Colossians 1:9-12 is this; (italics mine)

"And so,from the day we heard, we have not ceased to pray for you, asking that you may be filled with the knowledge of his will in all spiritual wisdom and understanding, 10so as to walk in a manner worthy of the Lord, fully pleasing to him, bearing fruit in every good work and increasing in the knowledge of God. 11May you be strengthened with all power, according to his glorious might, for all endurance and patience with joy, 12 giving thanks to the Father, who has qualified you to share in the inheritance of the saints in light."

and this is the version from the Message Bible; (large italics mine, of course)

"9-12 Be assured that from the first day we heard of you, we haven't stopped praying for you, asking God to give you wise minds and spirits attuned to his will, and so acquire a thorough understanding of the ways in which God works. We pray that you'll live well for the Master, making him proud of you as you work hard in his orchard. As you learn more and more how God works, you will learn how to do your work. We pray that you'll have the strength to stick it out over the long haul—not the grim strength of gritting your teeth but the glory-strength God gives. It is strength that endures the unendurable and spills over into joy, thanking the Father who makes us strong enough to take part in everything bright and beautiful that he has for us."
Ahhh! In prayer, I don't always need to worry about articulating loved ones needs or even my own but simply speak back to God the words of Colossians 1! By His grace alone....."Oh, Lord, m
ay You strengthen...in Your glorious might, and give ample power to meet whatever comes with fortitude, patience and joy. Oh, how I give thanks to You, Father."
Don't we all need those words? That we would receive the glory-strength that God gives which endures the unendurable and spills over into joy and thanksgiving??!
I know I'm clinging to those words today
. And my spilling thanks gets listed out onto paper (counter journal) and here....
#806 - 831
mint chocolate chip gum....dessert!
birthday breakfast
their Daddy love scrawled in cards
middle's gift crafted from the heart...a duct tape wallet
the satisfaction of busy embroidering fingers
warm greenhouses brimming with sweet-scented plants
another project checked off the list
his hard work
how he knows me
how He knows me
the honking of geese overhead
little boy chicken scratch handwriting
her brown eyes that melt my heart
musty antique stores
things with a history
steady ticking of clock
how He multiplies time
adrenalin pumping heart with anticipation of a visit with a dear friend this week
face-to-face instead of letters on a screen
the grace of friendship
songs of worship that give me words to glorify His name
and bring me to a place where eyes closed, His presence is palpable and i'm in awe
sunshine reflecting on snow, blindingly bright
the smell of freshly ground coffee
the day He gives
strength and joy for it all
Blessed to be on this journey of thanksgiving with you,
Megan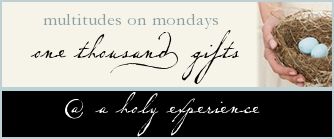 (*photos: mine...just random and old!)