dwell

verb \ˈdwel\
2 a : to live as a resident
3 a : to keep the attention directed —used with on or upon
b : to speak or write insistently —used with on or upon
out of the dust, out of my mess, out of my brokenness. I'd be a hopeless wreck without Christ's resuce and his transfiguration of chaos into beauty in my life.
Thanking Him that He's here in this place...in every seemingly unnoticed moment, in a family's love and growth.
#832 - 852
spring is coming
the seed of faith He's growing
new life is breaking through
birds singing praise
frog love
Easter branches...red twigs for His blood, pussy willow for new life
feisty, snapping fun in his hand
melted snow, fast running creek
treasures found
holding history
daddy and daughter night out
how she looks at him
"i had the BEST time, mommy!"
the love of our Abba Father
unconditional
piping hot coffee with cream
piles of library books
hungry chickens
winning! and generous, gentle friend
women who write and reach out and pray
her
here, time He gave, love words poured over me, what a beautiful gift this one was, Lord!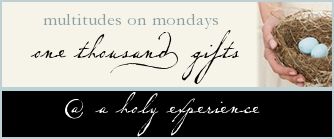 As He dwells with you today, may you see His beautiful things and count them all as gift,
Megan