Usually once a week we go to our
happy place
, the library. The bulging bag was so heavy the last time that I had to stop and rest four times on my way in. We were shocked to see so many people there until we remembered that public school is out. Usually it's just us and preschoolers and internet users.
Last week, we all piled onto the rickety chaise lounge on the back porch, under the umbrella, next to the petunias, and read (I read aloud) for three straight hours. I thought it might be fun to share some picture books we especially enjoyed. (Humble apologies for the smudged out library stickers in the photos!)
In the Town All Year Round
by Rotraut Susanne Berner
This book is SO adorable and fun with it's pages full of things to discover. You get the same feeling as peering into a dollhouse. The boys enjoyed it just as much as Lucy did.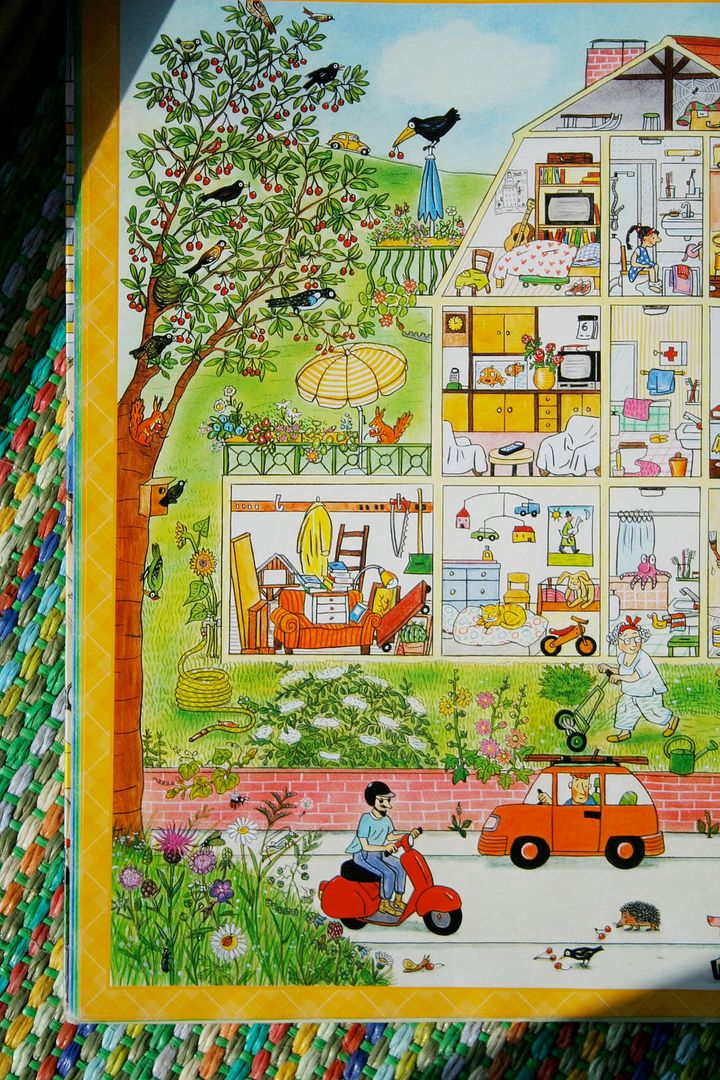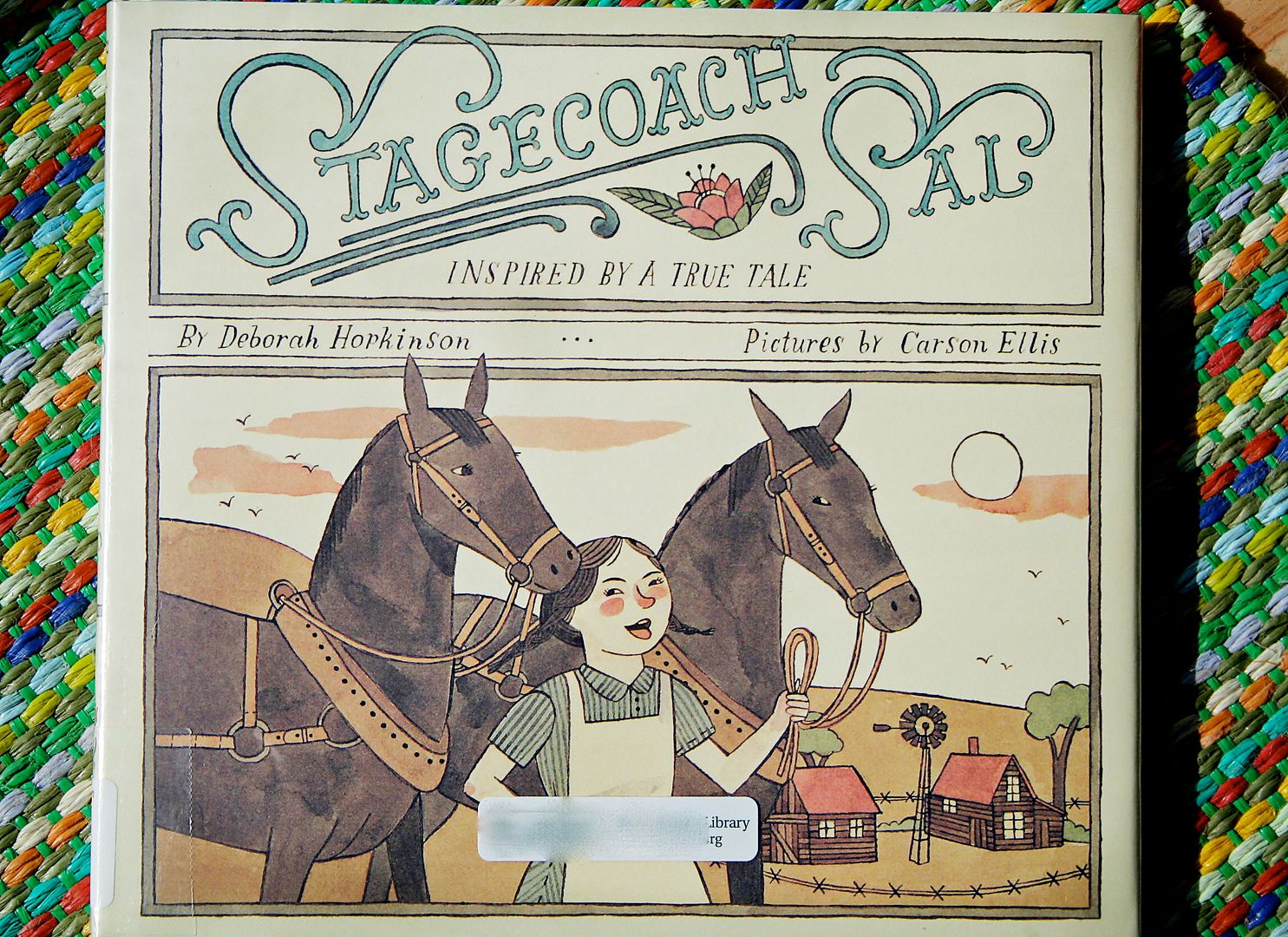 Stagecoach Sal
by Deborah Hopkinson
This smart, sing-songy book cracked me up (more so than the kids actually). I relish books that I can read aloud with a put-on Southern accent. And the simple, modern illustrations are so great...we were all smiling!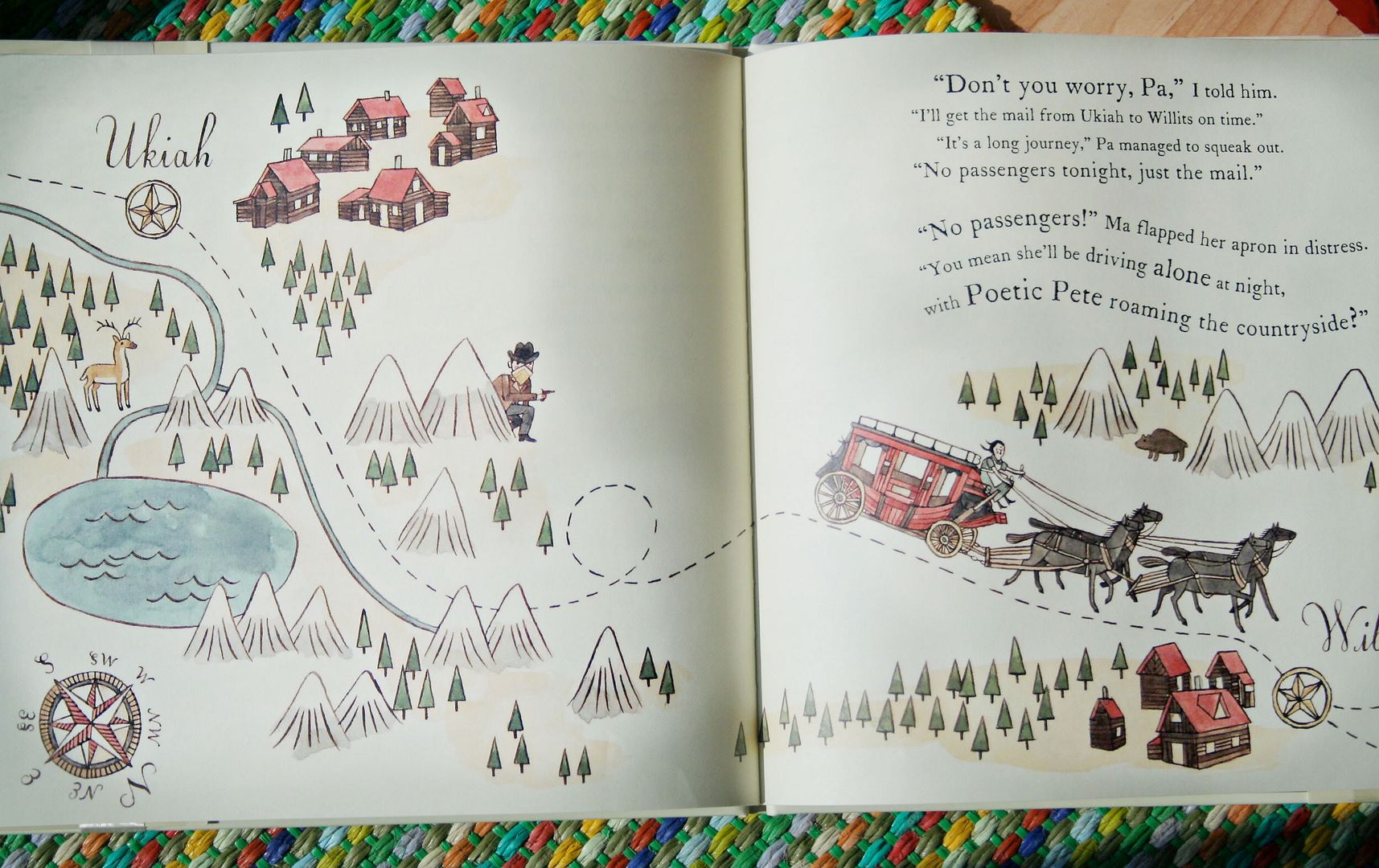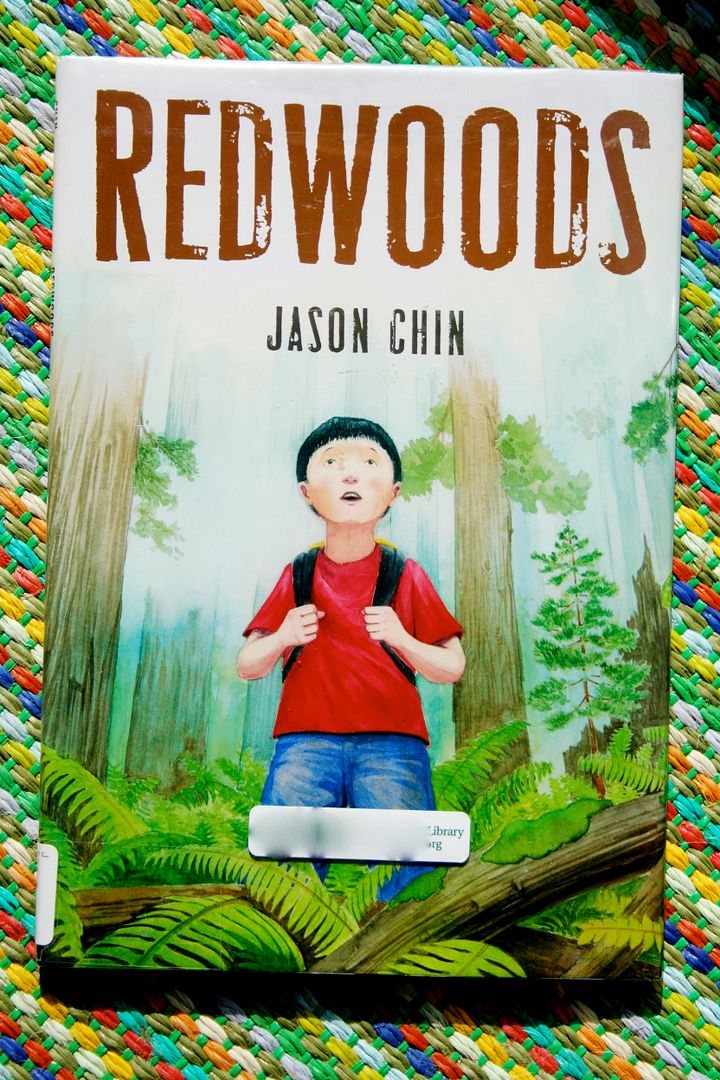 Redwoods
by Jason Chin
The illustrations really give a sense of the size and wonder of these amazing trees God's given us. Oh how we want to go!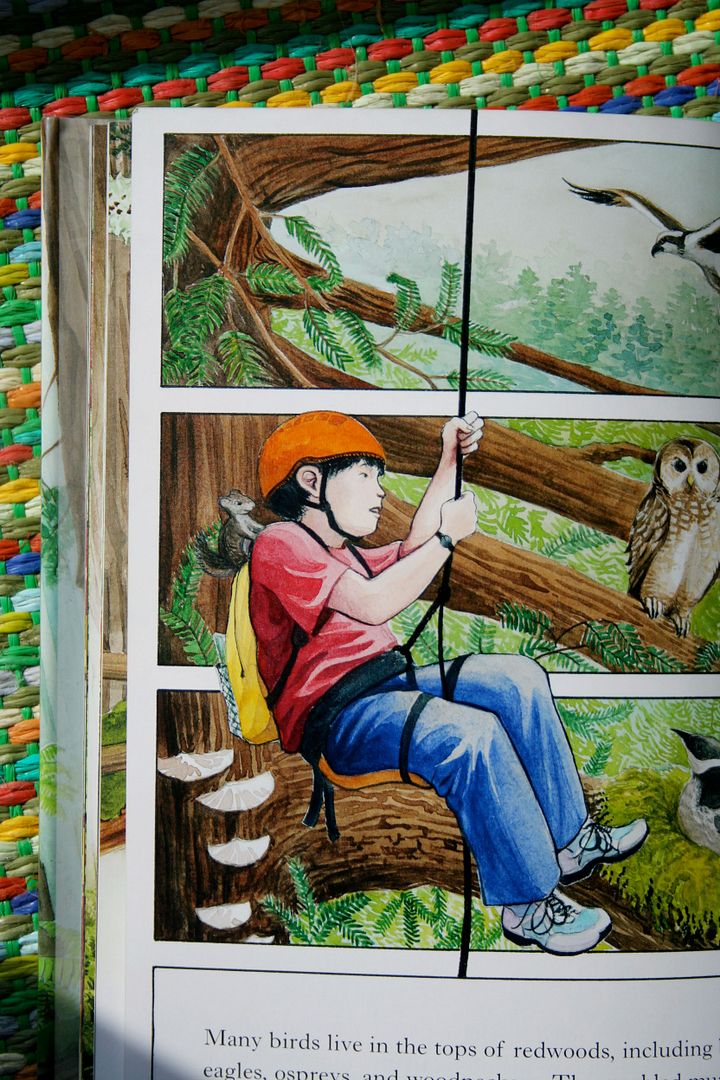 The Amazing Impossible Erie Canal
by Cheryl Harness
This visual-learner Mama can't help but adore books that have full-page illustrations and are chock-full of labeling and information! Great book!
Covered Wagons Bumpy Trails
by Verla Kay
Our favorite of the day! Simply written, luscious illustrations. Truthful without going into all the gory details about the hardships of such a journey. My almost 4-year-old was enthralled.
Can we live there? In the valley with the perfect grazing grass? And just enough trees to give a little shade? (I romanticize, I know...I can't help myself...the places in these illustrations look like heaven to me.)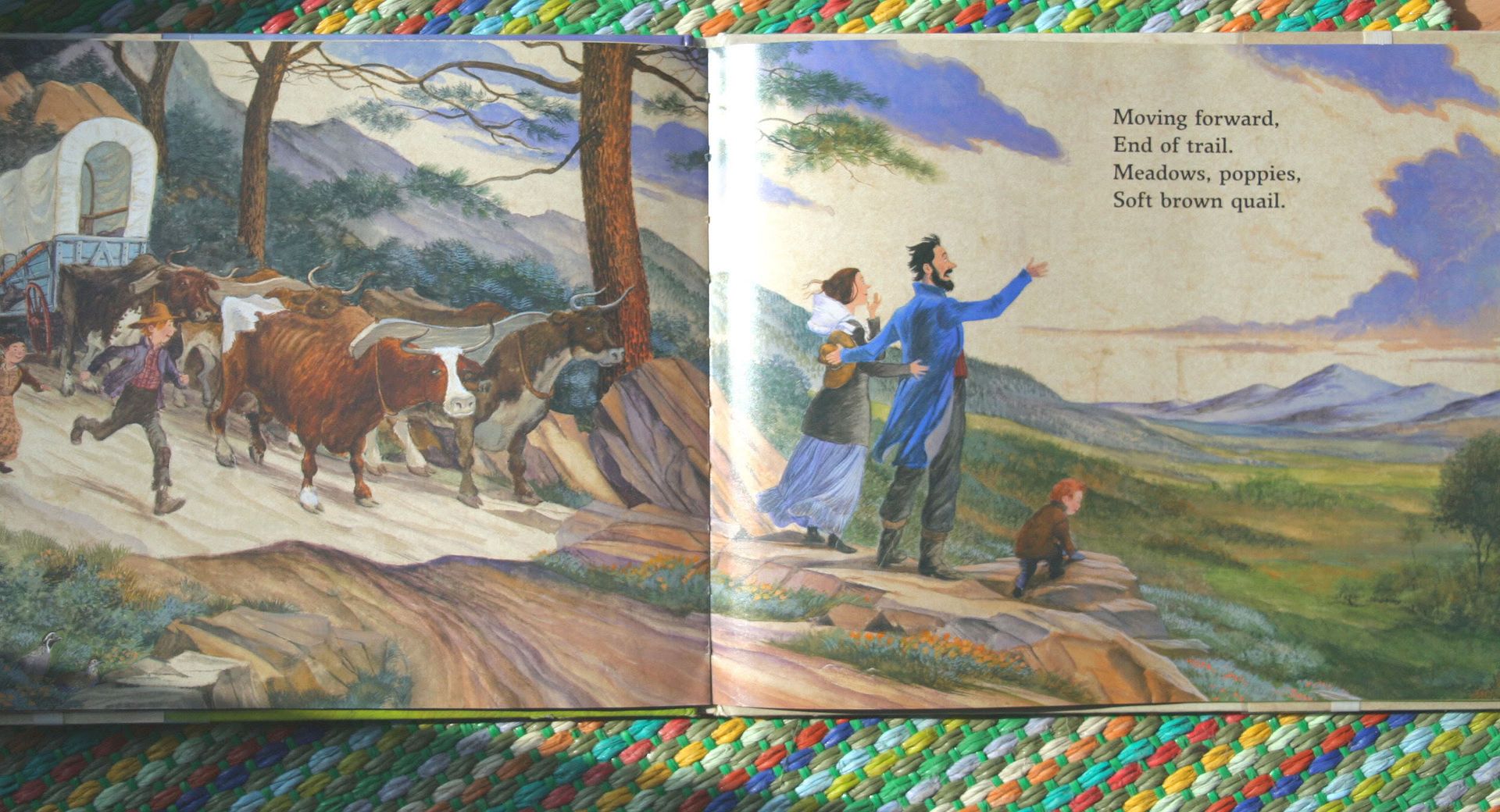 The made it to the end of the trail! :)
Well, I'm off to sleep now and just maybe I'll be dreaming of big blue skies and green valleys before long. (I need my rest for tomorrow entails

setting up the flowers

for F.O.U.R. weddings!!!)
May you see Him in all today!
Megan
"For great is Your love, higher than the heavens;
Your faithfulness reaches to the skies."