"Love is a heart that moves...
Love moves away from the self
Dan Allender and Tremper Longman III
(but found in the highly recommended book,

Sacred Marriage
by Gary Thomas)
We had toiled side by side in the garden that morning...my husband and I. Co-workers in the field, if you will. I mounded up the potatoes, scattered zinnia seed, plucked down onion starts. He tucked in the corn kernels, spaced out the pumpkin plants, cleaned up the asparagus rows. Wonderfully dirty work gardening is.
Then we sat for a spell on the south-facing front porch, rocking, eyeing the storm clouds darkening the southwestern sky. My husband's favorite leisure activity to do with the family is boating. With that option off the table, this man, apparently diving into his own

year of YES!

, suggested that we go to the beach anyways, brave the rain, have an adventure.
So, today, joining in with

Ann's 'Walk with Him Wednesday'

and her suggestion that in this month of anniversaries and Father's Day we honor our marriages, I just wanted to publicly thank God for giving me a husband and for giving these children a father who serves. A man who will work our clay dirt into something that can bring us a harvest of food. And a man who will gather us up and take us out on a day that looks like this...
and who will carry his almost 4-year-old baby girl hundreds of sandy steps up a steep sand dune so we can stand inside a cloud (all-the-while also gripping the umbrella). And laugh and joyfully watch as his boys have the times of their lives racing up and down those dunes in the rain and thunder.
And who will collect rainwater in a jar to rinse those million grains of sand off his boys. And with a gleaming smile remind me, "Remember, this is just what it was like when we were
in Kauai
?"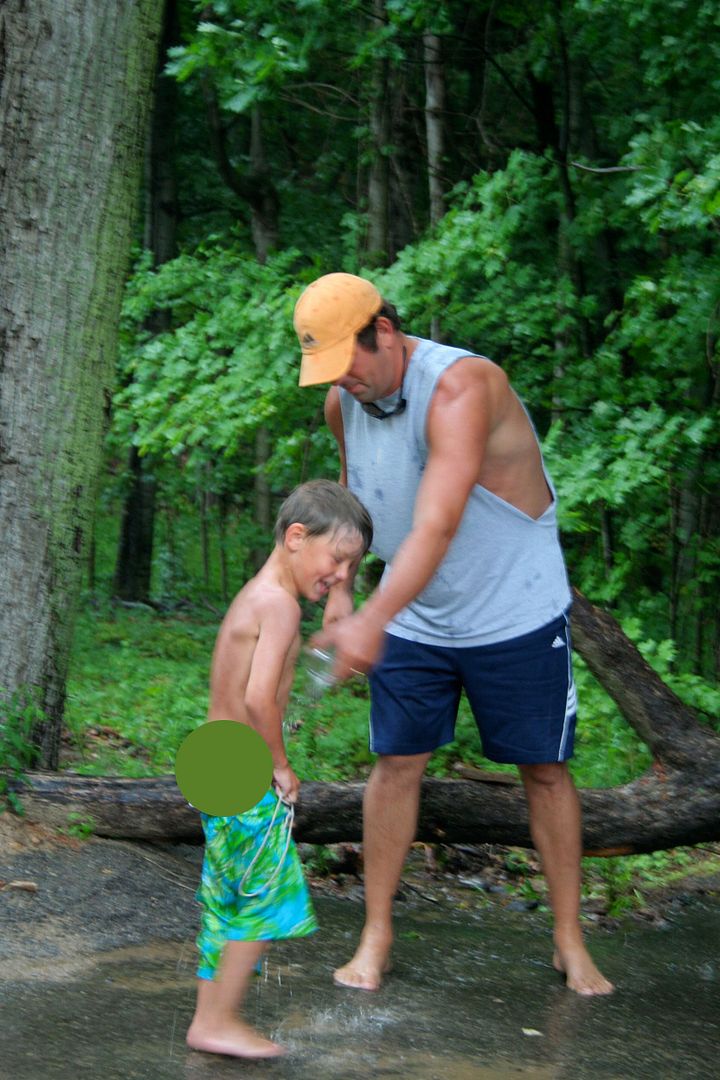 And then, traveling home, he's a man who won't think twice about pulling into this place we stumbled upon to check out the huge, majestic elk.
Or screech out a U-turn to risk his limbs in showing off a snapper to the overly-excited, screaming four of us dry in the car. (We had reason to scream...the snapper was quite crabby at being held up by his tail, snapping away without abandon at husband and car window and anything else that got too close.)
And still in the rain, he's a man who will spoil his children with much-too-big ice creams for
dinner
!
"I thank my God every time I remember you."