S

o in my home, "family-friendly" Mexican food means not spicy and not authentic but still tasty! I find myself craving these enchiladas and consuming all the leftovers within a day or two (and that coming from a non-leftover eater).
These are creamy, running on the sloppy side (in a good way), and we eat them with tortilla chips. They go together quickly if you have the chicken all pre-cooked and ready. The enchiladas can be made ahead and frozen, if needed, and will serve a family of six.
If you read my last recipe post, you'll remember that I have a hard time spelling out exact measurements, so you'll have to bear with me. :)
Here's the cast of characters:
Shredded chicken (cook that ahead of time...boil, roast, crock pot...however you like to do that...and shred up with 2 forks) - I almost always use those big bone-in breasts, 3 are fine (more will just mean larger, fuller enchiladas)

1 package flour tortillas...the enchilada/burrito? size, I believe...again, smaller ones would also be perfectly acceptable

1/2 - 3/4 cup mild, FRESH salsa...I seriously prefer fresh salsa to the shelf stable, jarred kind...it's a night and day difference in flavor

1 package cream cheese, softened

1 container sour cream (average size)

1 package shredded cheese like monterey jack or cheddar-jack (once again, I had pre-shredded on hand but truly do prefer hand shredded)

1 half large onion, coarsely chopped with a pat of butter to saute in

1 can Campbell's Cream of Chicken soup

1 half can of

crushed

tomato,

un

seasoned (

not

puree as pictured)
OK, preheat oven to 375 degrees. Saute the onion until soft and set aside (not pictured). Then, mix together the salsa, cream cheese and a hefty dollop of sour cream (maybe 1/4 cup?).
Stir the onion and shredded chicken into that mixture and set aside for just a minute. Thoroughly spray your 9x13 pan with non-stick oil (I like to use my extra-deep pan). Lay out 6-8 tortillas on your counter and evenly distribute the chicken mixture amongst them. Just spread a line of mixture down each one and roll up - like so, below...
Snugly nestle into your sprayed pan and set aside.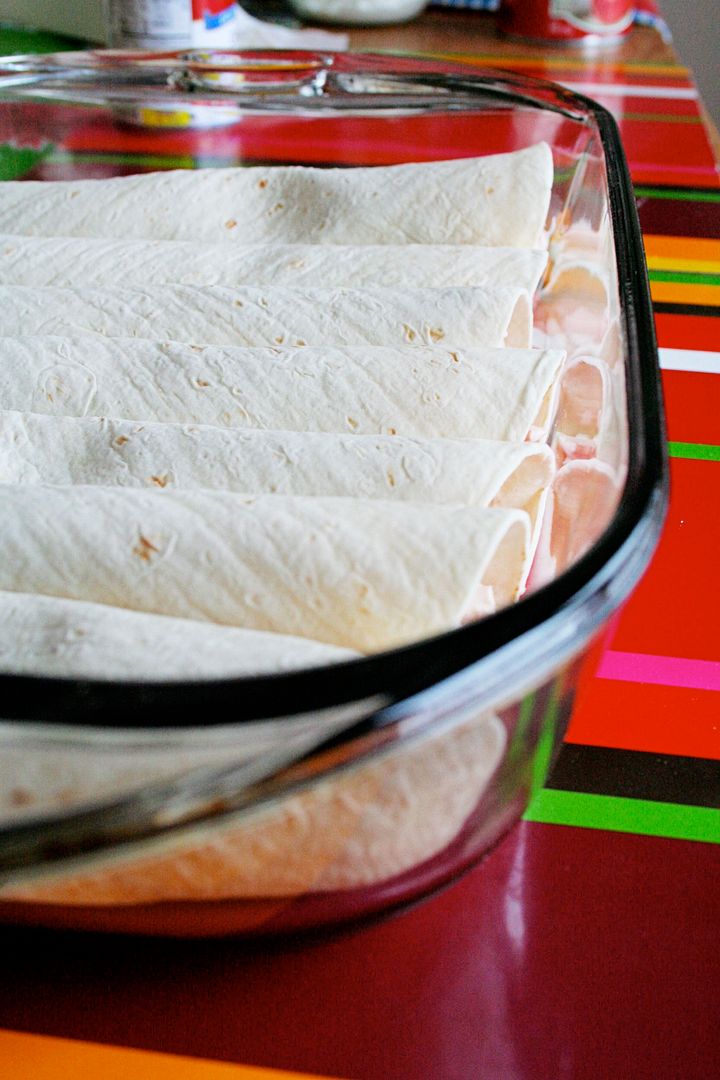 Next, using the empty chicken mixture bowl (no use dirtying another bowl!), mix together the can of cream of chicken soup and the remaining sour cream. Spread that evenly over top of the enchiladas.
Then, sprinkle cheese to taste over that....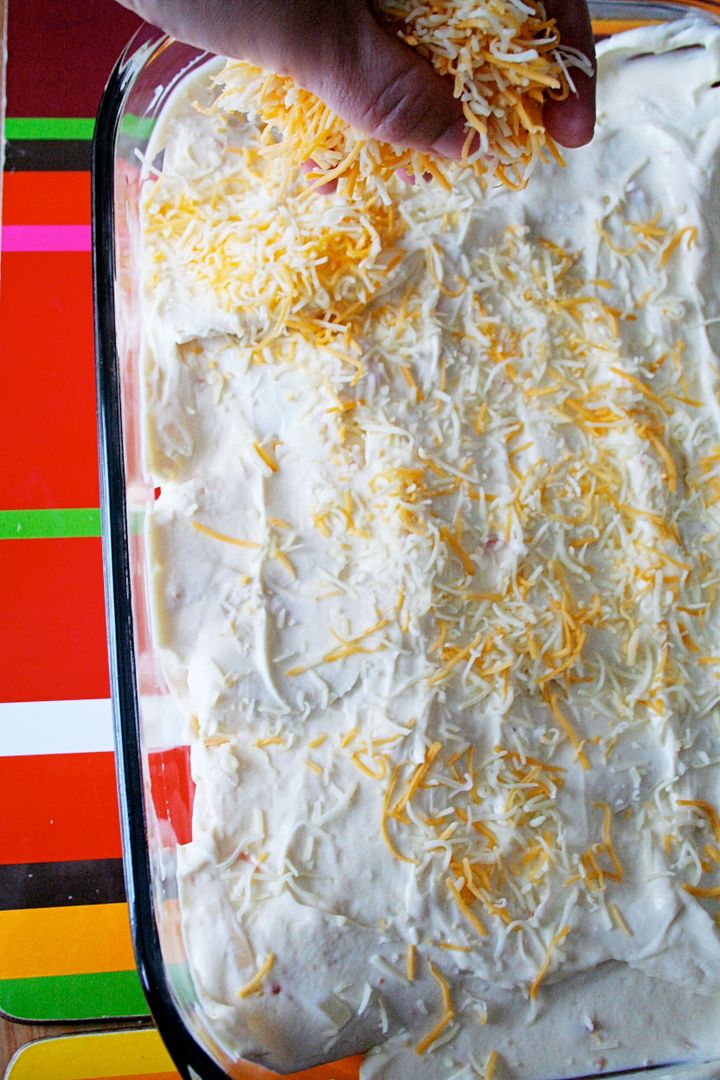 ...and lastly, drizzle on the crushed tomato (don't completely cover the top...it would become way too soupy during cooking).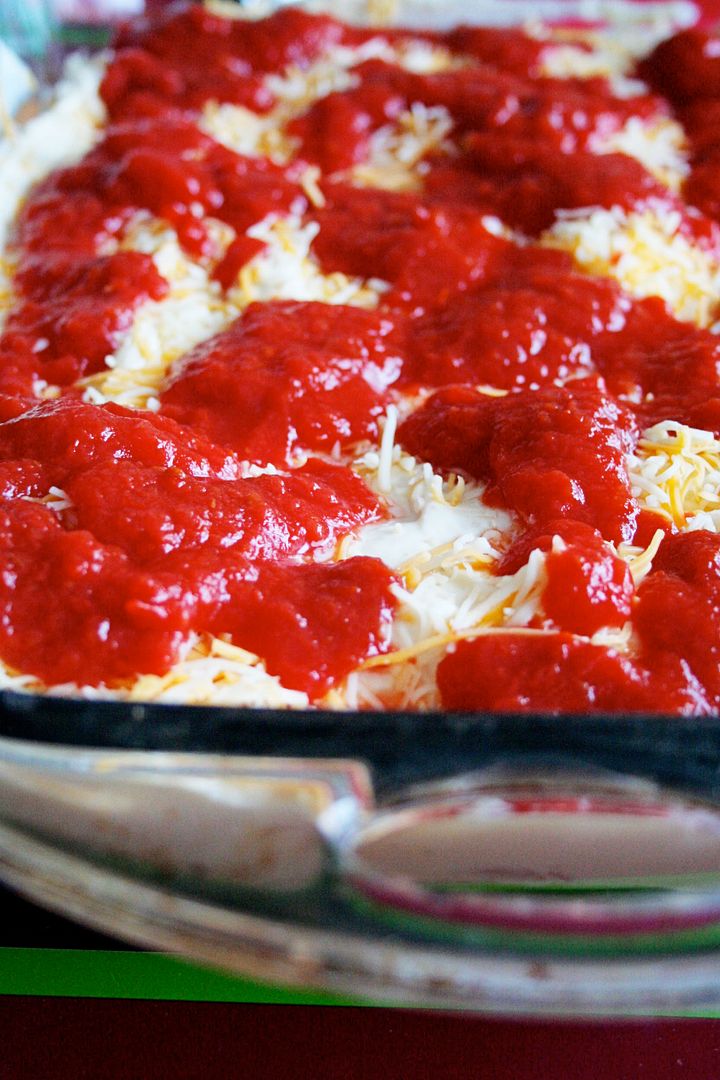 Pop it into the oven until bubbly all over (maybe 20-30 minutes) while you whip up some Spanish rice as a side.
Serve with tortilla chips and enjoy!
Let me know if you give this recipe a try! My 3-year-old daughter just saw these photos and told me, "I like to eat those, Mommy!".
I'm off to roast a chicken for dinner.
Blessings to you all,
Megan