O

r, "the-thing-I-crave-in-the-middle-of-the-night".
S

o, I like to cook. I like to try new things. I like to peruse cooking blogs and cookbooks. Basically, I like to eat good (i.e. tasty) food.
You'll not find any low-fat or even particularly healthy recipes here. Nope, the recipes I'll share in this space will most likely be the opposite. As I post more and more recipes, you may notice a pattern emerge....the use of butter, cream, cheese, starch....did I say, butter? (I stand by my butter!) Not to say that I don't cook healthy things, its just that I don't want to post them here! If you were hoping for dairy-free, gluten-free, or low-fat, you'll want to come back another day. Thank you.
Let me also preface this recipe with the full disclosure that I am NOT a professional chef. I probably chop onions in a ridiculous way. I don't use the best knives. Following a recipe exactly how it's written doesn't happen often (unless I'm baking, which I also enjoy). So, measurements in my recipes might be something like "two glugs of this" or "a huge handful of that". May I say?...have fun...trust your taste....adjust for it...dinner will turn out great!
OK, these potatoes are just a different take on the standard twice-baked. Good for company because they can be made ahead and even frozen, if needed. The onions add sweetness, the swiss-nuttiness and the vermouth, hmmm, just tastes good in there (coming from someone who couldn't tell vermouth from sherry or anything else).
Here goes....my first tutorial....eeek!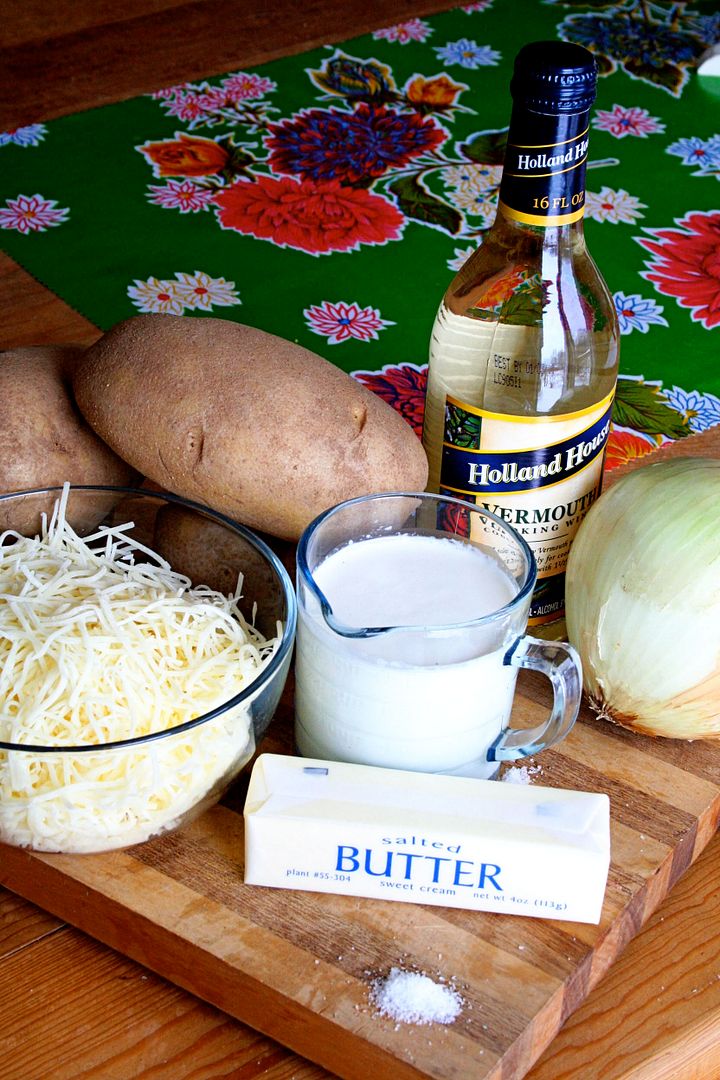 (your forgiveness for the overblown photo?)
4 very large Russet potatoes
about 12 oz. shredded swiss (I used pre-shredded because that's what I had on hand but please know that freshly shredded is always preferable)
1 stick butter (I beg you to never, ever replace with anything less than 100% butter)
about 1/2 cup heavy whipping cream (another one to never replace :) )
about half of one large sweet onion (yes, it's a lot)
2 generous glugs (or approx. 1/3-1/2 cup) vermouth
Bake your potatoes. I usually nuke them for 10 minutes (flipping after 5) and then bake until soft...around 40 minutes.
When they are cooked through but not all wrinkled up, remove from oven (but keep it heated at 375degrees)...let cool slightly so you don't fry your hands. Then, cut in half lengthwise and scoop out the insides with a spoon. Be sure to leave enough potato attached to the skin so it can still stand up...there's a fine line between retrieving enough potato and leaving enough behind. Anyways, just set the potato innards aside in a big bowl.
You can start this part while the potatoes are still baking...or not.
Chop up all that onion...a smallish dice...
In a large saute pan, melt the entire stick of butter

.
Add the onion and saute over low heat (being very careful not to brown) for five minutes.
After five minutes, add in those two big glugs of vermouth. Continue to cook until onions are very soft and translucent but not brown. Turn OFF the heat and pour in that luscious cream...stirring a bit to combine.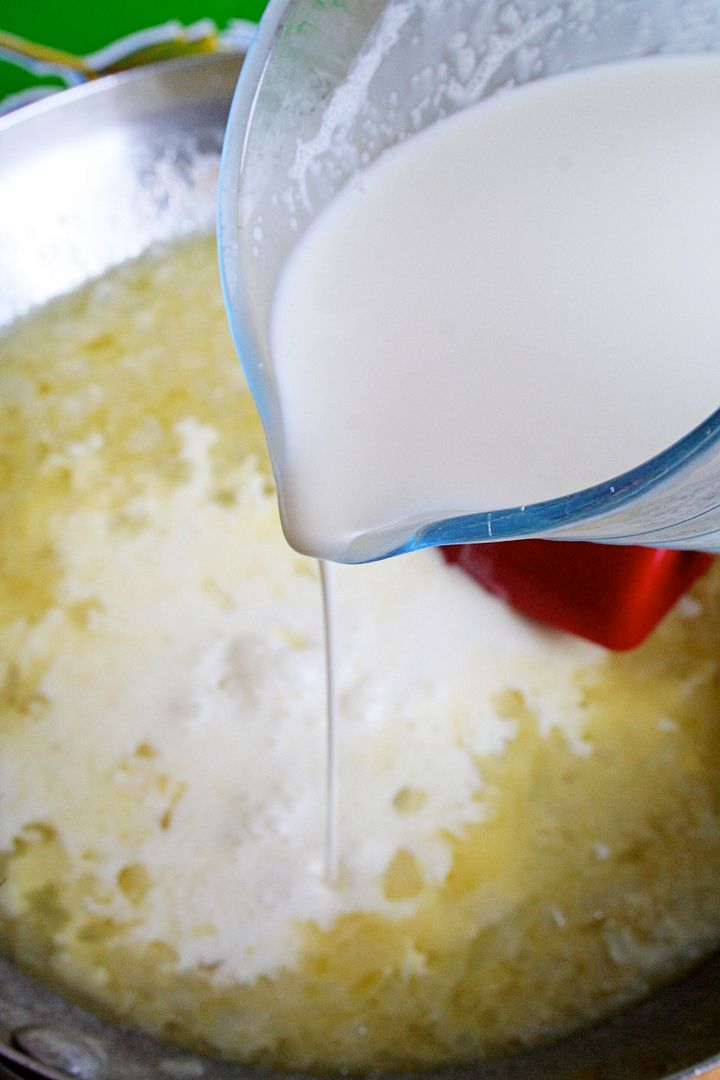 Go back to your potato bowl. Add the swiss...reserving some to sprinkle on top later. Sprinkle on a generous amount of salt and pepper.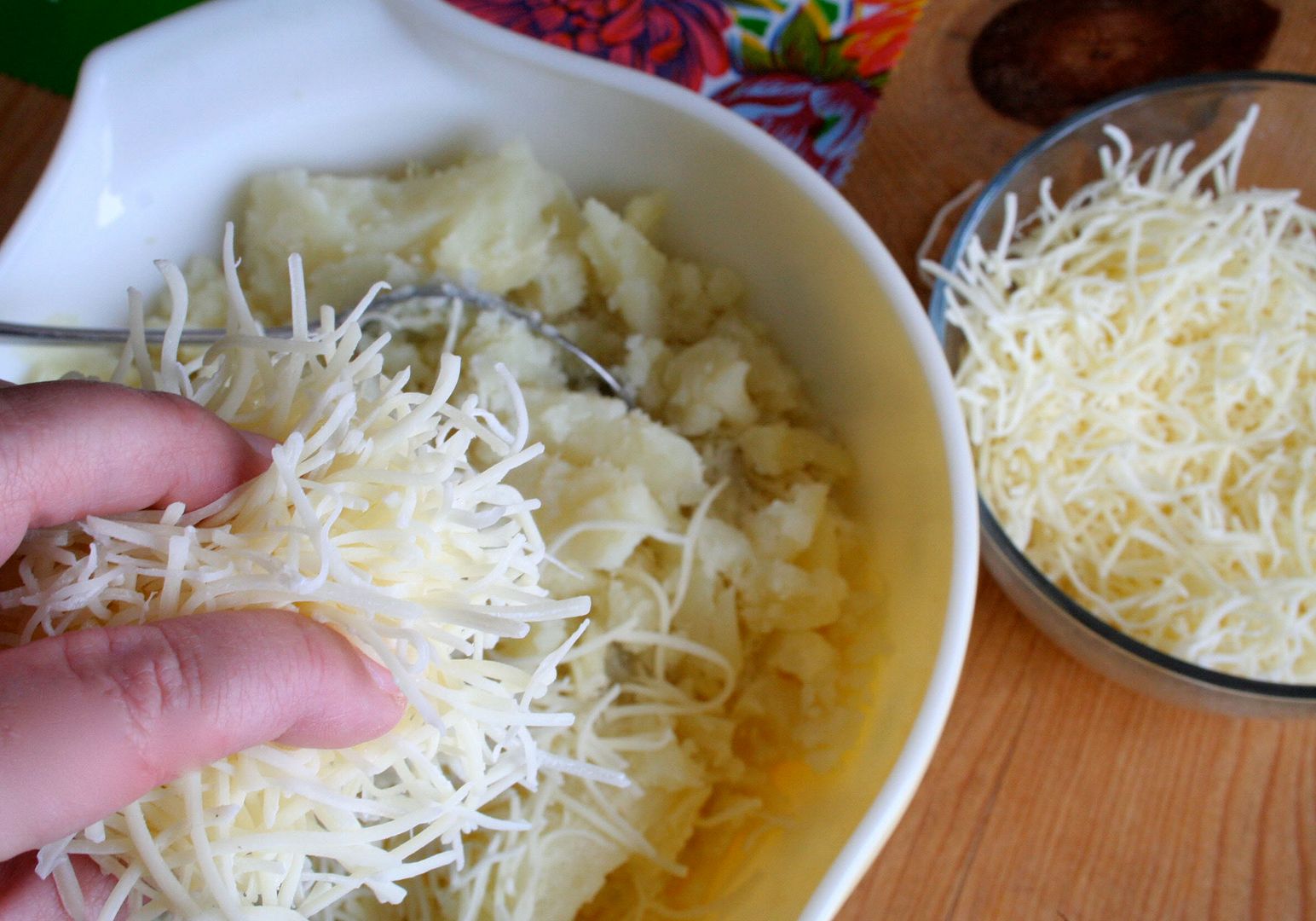 Then pour on all that yummy, creamy onion goodness. Stir just to combine using your spoon to break up any large chunks of potato but do not mash completely....chunky is good in this case.
Go ahead and taste....mmmm, just right.
Almost done. Simply refill those empty potatoes, sprinkle with the extra swiss and bake until nicely browned. Maybe 30 minutes? Scatter some chives over top for color if desired (I didn't have any...sorry but monochrome food still tastes good).
Voila! Oh, they are good in my humble opinion.
A

re you going to make these? Please let me know how they turn out....if you like them?!
I was going to write a Lenten post about fasting today...to join with

Ann's "Walk with Him Wednesday"

but it seems looks as if I've decided to give Him thanks for feasting instead....for food, for flavors, for nourishment, for tastebuds, for hands to create...ALL gifts from Him.
M
ay you
taste and see
His goodness today,
M
egan